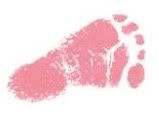 Today, Ill post about something better than Make-up, clothes, shoes etc.
My sister gave birth to a beautiful little girl last night(April 7) at 12:19am, which is actually my moms birthday as well. So what better present than your first grandchild.
It happened really quick. We we're watching a movie last night till 10:30. She felt ok. starting at 11pm she felt some pain. So we started getting ready to go to the hospital. Once at the hospital it really started, went to the delivery room at midnight and 19 minutes later there she was my first niece =) Proud of my sister, she was a real trooper.
Coming to the baby. She named her
Giuliana Luna
and she is the cutest little thing!5 lbs 2 oz, 19 inch. Really tiny but as cute as a button. She has a full head of hair and nice eyebrows! I swear her brows look perfecty groomed and shaped haha.
That's why I didn't do an OOTD or anything else today, because I've spend almost all day at the hospital with my sister.
Anyway, Mother and Baby are doing great and I'm sure I'll have many more posts on little Giuliana =)
I can't wait to see how the dogs react to the new addition to the family! Well Diego, I guess you're not the baby at home anymore =D (at least for our last few months in Germany haha)
Oh, btw. We reached the 90 day mark! My husband will be back home in about 90 days whoohooo!
What an emotional day, I'm going to bed now ...
Nite Nite